Accommodation, Bed and Breakfast en Côte-d'Or
Add to my travel notebook
Register your touristic spot en Côte-d'Or it's free (in French)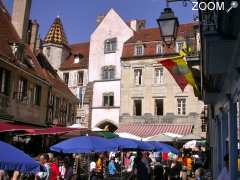 TVORG-11382
Update informations
Low season of 80€ to 120€

Average season of 80€ to 120€

High season of 80€ to 120€

School holidays of 80€ to 120€




Disponibilités
Jangui Motz
5bis, rue de l'Ancienne Comédie
21140 Semur-en-Auxois (Côte-d'Or)

http://www.laporteguillier.com
Located in the pedestrian historical city centre of Semur en Auxois, the pearl of the north of Burgundy, the Chambre D'hôtes of the 'Porte Guiller' provide you with a warm welcome.
Spacious and independant thanks to the magnificent staircase leading to the different floors of this XVIIth centuary private manor house,  the Chambre D'hôtes of the 'Porte Guiller' offer a spectacular view over the medieval city, the collegiale of Notre Dame and the towers of the dungeon. The close proximity of shops and and resaturants will make you forget your car for a while .

The town of Semur en Auxois and the 'pays d'Auxois' are worth more than an overnight stay. They are worth a holiday! Come and discover the abbey of Fontenay, a jewel of the XIIth centuary classed a Unesco world heritage site, the site of the battle of Alesia along with the archeological digs surrounding it, the village of Flavigny sur Ozerain classed one of the 100 most beautiful villages of France where the film 'Chocolat' was filmed...let us add that the 'pays d'Auxois' has as many castles as cows! And let us finish with a nature walk at the source of the Seine.
    All situated between Beaune and Chablis. An hour from Dijon, capital of the dukes of Burgundy and two hours from Paris!

Register your touristic spot en Côte-d'Or it's free (in French)