Accommodation, Self catering en Saône-et-Loire
Add to my travel notebook
Register your touristic spot en Saône-et-Loire it's free (in French)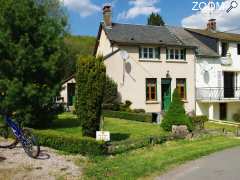 TVORG-793561
Update informations
High season of 422.5€ to 662.5€

Low season of 365.5€ to 599.5€


Disponibilités
van den Brûle
28, La Bussière
71550 Anost (Saône-et-Loire)
Phone : 03 85 54 14 10
- Mobile phone : 06 65 25 51 72

http://www.la-maison-de-juju.fr

LaMaisondeJuJu
This beautiful and completely renovated spacious holiday home has a lot to offer to 4 adults and 2 small children. Well situated in the center of the Morvan Natural Regional Parc area, the house has a free view over the hills of the region.

You have got 95m² at your disposal in this house with its nice garden with terrace and a cellar to put your bike in. There are two large private parkingplaces for your car.

The house is decorated with charm and taste. It is well isolated with dubble windows, has electric heating in every room and in the livingroom there is a Godin woodstove as well. The entrance hall offers a lot of space for your personal luggage. On the main floor are situated: livingroom, diningroom, kitchen, a bathroom with shower, toilet, and washbasin. On the first floor there a two bedrooms (one with 2 seperate beds, the other one with one big bed and in a seperate part a babycot and an extra bed for a small child). All beds are new and 2m long!

The house offers a lot of extra things such as: games and toys for children, WIFI, HIFI-combination with cd, flatscreen televisionset, a computer, special chairs for babies and children, a library with books in different languages etc.

Upon your arrival the beds are made and all linen (bathroom, kitchen, table, bed etc.) is provided. The house is ready for use with a small stock of toiletpaper, cleaning material, matches, wood for the stove, coffee, tea, sugar, spices, candles etc.

The walking- en cyclingcircuits can be picked up in front of the house. You will enjoy the more than 2.400 km of prepared circuits in the area! If you prefer visiting the gallo-roman monuments, the castles or archeological sites of the region, you won't be disappointed! There is really a lot to do and see in this beautiful part of Burgundy: horseriding, golf, watersports, motor-bike riding, vines- and vineyards, musea etc.

We are also the owners of hotel-restaurant Auberge de la Chaloire in La Petite Verrière, at 3 km from the gîte, where you can enjoy its outside swimmingpool and use free internet as well.

We are looking forward to welcoming you in La Maison de JuJu.
Register your touristic spot en Saône-et-Loire it's free (in French)