Accommodation, Bed and Breakfast en Côte-d'Or
Add to my travel notebook
Register your touristic spot en Côte-d'Or it's free (in French)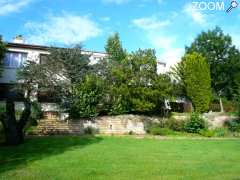 TVORG-796761
Update informations

Disponibilités
Akiko NGO
9, rue du 8 mai 1945 21330 LAIGNES
21330 Laignes (Côte-d'Or)

http://www.lenidakiko.fr
Le Nid d'Akiko, "Bed and Breakfast"

Setting : quiet, wine region - Ideal for all age groups and families.
Horseback riding - Village center at 0.3 miles
4 bedrooms with private bathroom or private shower.
Close to the medieval city of Semur en Auxois and Noyer sur Serein, ideal for all age groups, couples, families.
Golf course about half an hour.

One hour by fast train from Paris to the train station at Montbard, where your host will greet you.

Your host is organizing cellar visits of Burgundy and Champagne,with no need to drive, you just enjoy
and discover the French countryside.

Le nid d'Akiko, which means Akiko's nest, is a bed and breakfast located in the country
side,in the north of Burgundy, in the Châtillonnais, between beautifull forests and rivers, minutes
from Champagne, and a short drive to Chablis.

Akiko & Jean Pierre will be very pleased to welcome you, to their home which is sunny and bright. Every bedroom has a private bathroom, and a view of the garden.

We invite you to dine with your hosts and discover Japanese dishes or
a delicious French burgundy meal.

Every Saturday morning, around 11 am, Akiko teaches Japanese recipes, which you may reserve before your stay.
Register your touristic spot en Côte-d'Or it's free (in French)